Frequently Asked Questions
Do you bulk bill?
---
es and no. We are a private surgery just like any other skin cancer clinic or doctor surgery, and the general consultation fee is $80.00 ($55.00 for pension card holder). ​ We do bulk bill for children under 16 years of age, or DVA holder (Gold card, and Silver card if eligible).
---
Do I need a referral letter?
---
No, you do not need a referral letter. However, it is always good to let your GP know about the concern you have and that you have a consultation with us.
---
I have a changing mole!
---
We take it seriously for any concerning mole or lesion that you have, whether it is new, changing (colour, size, or else), getting itchy, bleeding, or it is a lesion that you (or someone else) are concerned about even if it "looks ok". ​ If this is the case, please indicate to us your concerns, as we do have urgent appointments available which we can usually fit you in within 5 business days. ​ However, such appointment is usually a shorter appointment, and time may not allow us to perform a full skin check at the same time.
---
Are you a dermatologist or surgeon?
---
We are not a dermatologist or surgeon. We are specifically trained in the area of Skin Cancer. ​ Dr Cheng has the following accreditations:- - Master of Skin Cancer (UQ) : MMed (Skin Cancer) (UQ)
- Diploma in Practical Dermatology (Cardiff) : DPDerm (Cardiff)
- Membership of Royal College of Surgeon (Edinburgh) : MRCS (Ed) - Fellowship of Royal College of General Practitioner : FRACGP ​ He is also currently training in Australasian College of Cosmetic Surgery and Medicine (ACCSM) and already holds the following certificates:- - Certificate of Skin Cancer - Certificate of Dermatoscopy - Certificate of Aesthetic Medicine - Certificate of Advance Laser & IPL - Certificate of Cosmetic Tattoo - Certificate of Scar Camouflage
---
Your First Skin Check!
---
Skin check can either be focused on one or more lesions, or a general "routine" check. Specific check. When there are changes in a lesion, we recommend to examine it under a microscope (dermatoscope). Changes can be in its color, shape, that it is becoming itchy, irritating or bleeding, or simply because you are concerned about it. Sometimes a patient picks up melanoma before the doctor does, so do not feel bad about being "over-reacted", you may just have saved your own life. General "routine" check. Sometimes you may just want to check your skin for the presence of skin cancer. Different doctors perform a full check differently, standing up, lying down, fully undressed, start from the head, or start from the toes. My approach is to have the patient undressed down to their underwear (bra and underwear for female), and have them sit by the bed side. I start with examining the skin from the back, before I move to the front for arms, face, body and legs at the end. Lesions in the areas covered by hair are not generally examined as a routine, or lesions under the underwear, however those areas can be checked upon specific request. The whole examination takes about 10 to 15 minutes. The bottom line is, skin cancer can only be treated when they are brought to the attention of a qualified doctor, and the earlier the detection, the better the chance for it to be successfully treated.
---
How to monitor your own skin between skin checks?
---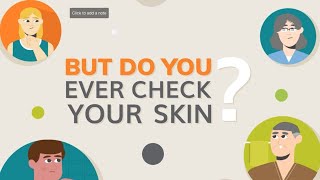 ---
---